What types of advertisements would it take to keep you from driving drunk?
Anti-drunk driving ads have been around since the early part of the 20th century. One of the earliest was this 1937 anti-drunk driving poster issued by the Works Progress Administration.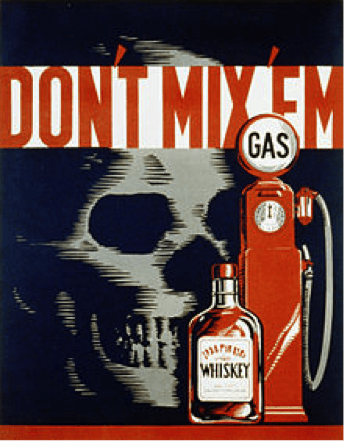 Ad campaigns have certainly progressed since then in both the United States and abroad. And Britain has taken anti-DUI ads to a whole new level.
It's called the PubLooShocker and its purpose is to literally scare the DUI out of you. The video can be found here:  PubLooShocker Video. The advertisement was produced by Leo Burnett for England's Department for Transportation as part of their THINK! campaign.
Posted since early June of this year, the ad has gone viral, receiving millions of views. I can understand why. The video depicts unsuspecting bar bathroom users coming face-to-face with a face smashing through the bathroom mirror to shockingly portray a person smashing through the windshield of a vehicle after a crash.
Although the video is reportedly scripted and used actors to play the parts of the pub goers, its effect is lasting.
Apparently one way to prevent a DUI is to give people a heart attack before they leave the bar.
The post Scaring the DUI Out of You appeared first on Law Offices of Taylor and Taylor - DUI Central.